Whitewater Rafting
If you're looking for an outdoor adventure whitewater rafting may be the activity for you! In Connecticut you are not going to find the rapids you will find elsewhere, and the best place to find a whitewater rafting challenge is none other than the Poconos.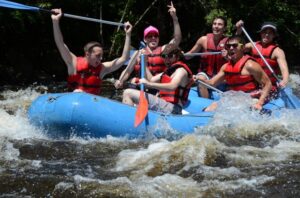 If you're looking for information on rafting, then the website to visit is WhitewaterRafting.com. Many people wonder what the best rafting trips are suited for them. We find that the most convenient rafting adventure is a day trip lasting 3 to 5 hours on the water but, if your schedule permits there are multiple day adventures and combination trips that also incorporate other activities such as Rail-Trail Biking, Hiking, and Paintball.
Ultimately you will determine the level of activity you want to experience, and WhitewaterRafting.com can help deliver you the experience of a lifetime!
When searching for an outdoor adventure it will be hard to find another one that can match the excitement, physical activity, and the beautiful scenery you will find on one of our rafting trips.
Poconos Whitewater Rafting
To get a feel for some of the adventures you can experience with us, please take a moment to view our short video "Family Style Rafting with Pocono Whitewater"
Things to do in the Tri-State
When you are looking for things to do in the Tri-State you will always have an amazing day with us at White Water Rafting! Fun with friends, the family, or a weekend corporate outing, we will always make sure you enjoy your time with us.
We hope you enjoyed this short video on Whitewater Rafting and we hope we see you soon!